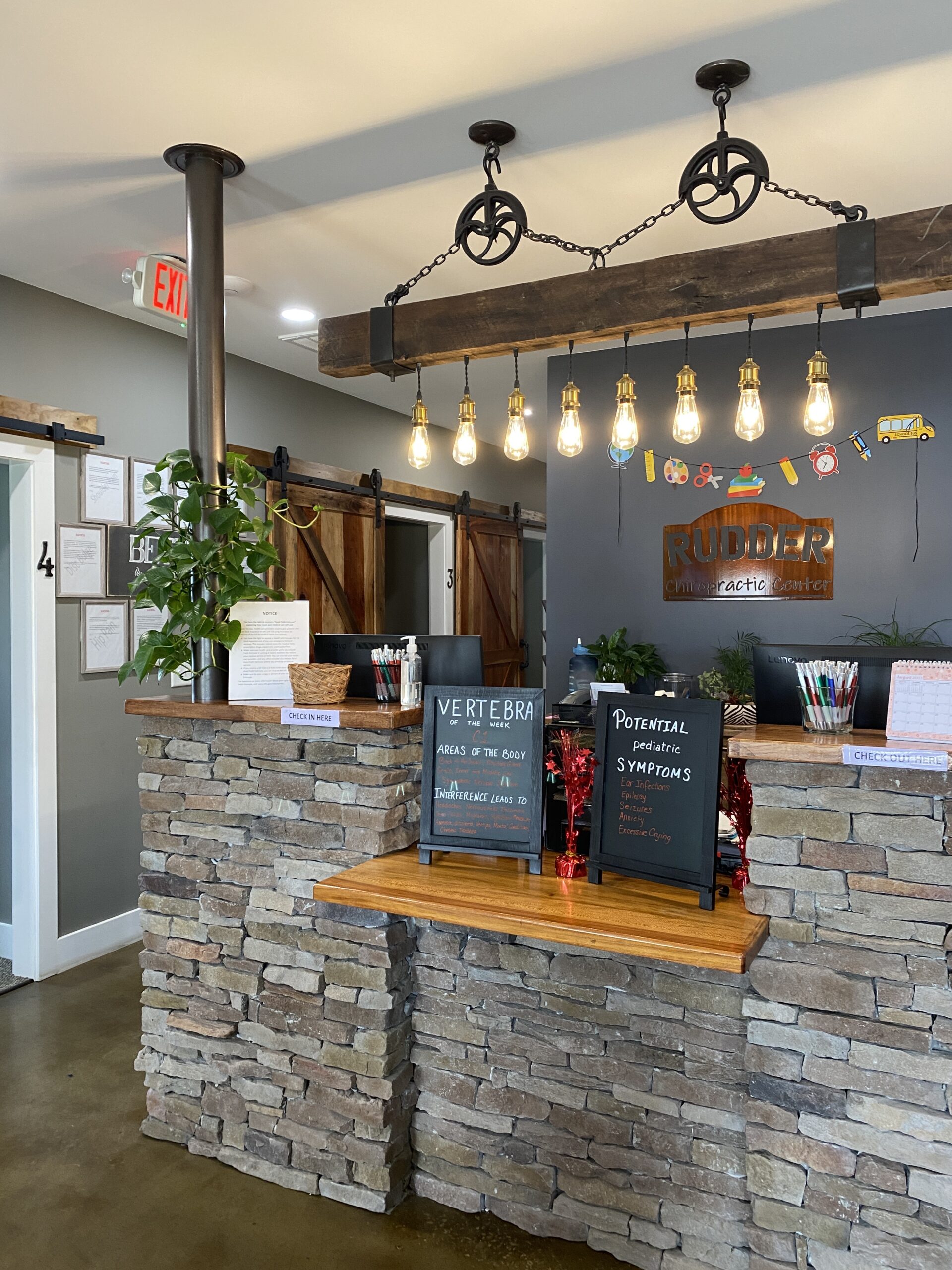 Welcome to Rudder Chiropractic Center
The Rudder Team is here to help your whole family achieve their wellness goals.
In our office, our goal is simple:
To bring holistic wellness to your family using chiropractic care and massage therapy, and other ancillary therapies as needed. We strive for a healthier, thriving community, and we know that adaptable health is the foundation.

Embracing a holistic approach, our team of chiropractors is dedicated to enhancing your overall well-being. With an understanding of the interconnectedness of the body, our chiropractic care aims to address the root causes of discomfort, enabling you to achieve a better state of physical and mental health. Experience the transformative power of our chiropractic care, and embark on a journey towards a healthier and more fulfilling life.


As we like to say here: Better is our favorite word!
  Chiropractic care is focused on restoring optimal function to the nervous system and maintaining health and wellness so the body functions to its maximum potentials.
  There is no part of your body that functions without influence of the nervous system.
  Every bodily function is controlled by nervous impulses traveling from your brain to every part of your body. Everything that you see, smell, taste, touch, and hear travel through nerves to your brain. Nerves make muscles move bones which move joints. It is a nervous impulse that tells your heart to beat and circulate your blood, your digestive system to function and make use of the food we eat, your lungs to breathe in fresh air, your reproductive system to function, and your glands and hormones to secrete and excrete properly.
  Having the nervous system function normally and optimally is the only way that the body can truly achieve and maintain health.
  As Doctors of Chiropractic, our approach to health is through the spine because it houses and protects the spinal cord. The spinal cord can be thought of as the switchboard of the nervous system because everything going to the brain and from the brain passes through it. Nerve roots come off of the spinal cord and pass through openings in the vertebra (spine bones) and from there they go to muscles, bones, organs, or skin.
  Your spine is made up of 24 individually moving vertebra and 31 pairs of nerve roots. When one of these vertebra get "stuck" or out of position in relation to the vertebra below it (or above it) it can interfere with the information being sent along the nerves.
  The word that chiropractors use to describe a bone that is out of position or fixated and causing interference with the nerve is subluxation. Subluxations can disturb normal function throughout the body and can be the root cause of many conditions. Doctors of Chiropractic are specifically trained in the detection and correction, through the adjustment, of these subluxations.
Very friendly crew that does great work. I fractured 3 vertebrae 7 times and could barely handle the pain at work all day. I am now able to work with no pain!
Payton H.
Dr. Karen is always welcoming and always listens to our comments and concerns. Not only is she our chiropractor, we consider her a friend. The ladies in that office are always kind and willing to work with us when our schedule changes. Dr. Rudder is also wonderful and is great about explaining what she is doing and why she is doing it! This place is amazing and we couldn't imagine going anywhere else.
Lisa G.
Absolutely Amazing. I had never received chiropractic care before and I had no idea where to start or what to expect. The people on staff here are incredible. I initially set up an appointment for my infant son on recommendation from my IBCLC (lactation consultant). I was so pleased with the care he received that I am now going regularly myself. Dr. Shelstad is the best. She answers all my questions and makes me feel like I'm the only patient she has to see.
Brittany B.
Wow! What a great experience having been skeptical of the whole industry from some horror stories, however After some high recommendations and a willingness to humble myself and meet with them I am sold! Everyone is so nice and knowledgeable, Shelly at the counter, Emily the photo tech and Karen the chiropractor….what an awesome team! One adjustment made some improvement but I have a ways to go but feel this is a good move! Thank You Team Rudder!
Mike P.
I've been seeing Dr. Rudder for over 4 years now. She helped so much with my with back pain. I really enjoy my monthly visits to stay on track now! Her whole staff is so friendly and accommodating!
Macy F.
Phone: (931) 967-4199 | Fax: (931) 967-4099